Many ask us is it safe to rent a car after the coronavirus? This concern is not exaggerated given the global health situation we are experiencing. Let's see what companies are doing in terms of car rental cleaning.
After we are experiencing this health situation on a global level, the ordinary things that we took for granted, remain among the said and generate in us a degree of prudence (and mistrust) when carrying out any transaction, however current it may be. Like the case of our friend who is renting a car.
In order to pick up a rented vehicle, several persons are involved in the process: the previous user, the personnel who receives the vehicle back, the personnel who cleans the rented vehicle, the personnel who refuels the vehicle, the personnel who delivers the vehicle to you, and finally you, when you put the vehicle into circulation.
In a scenario like the one we are experiencing, it is completely normal for us to ask ourselves: Are we safe hiring a car considering the coronavirus? To answer this concern, let's look at the official prevention guidelines and the initiatives of car rental companies in relation to the issue of car rental cleaning and health safety against the coronavirus.
Official preventive guide applicable to car hire companies in Spain
The action procedure for risk prevention services against exposure to COVID-19, establishes that the personnel of service companies, including car rental companies, must implement the following measures:
Use of masks for staff, provided that the distance separating people is less than two metres.
Use of gloves for chemical protection personnel or latex depending on the degree of exposure.
Initiatives of the companies in terms of car rental cleaning
While there is no official protocol for the treatment and disinfection of cars per se, a large number of car rental companies are taking the initiative to reinforce the cleaning process with more effective disinfection methods to remove difficult to detect particles such as viruses.
Enterprise: Full Cleaning Commitment on car rental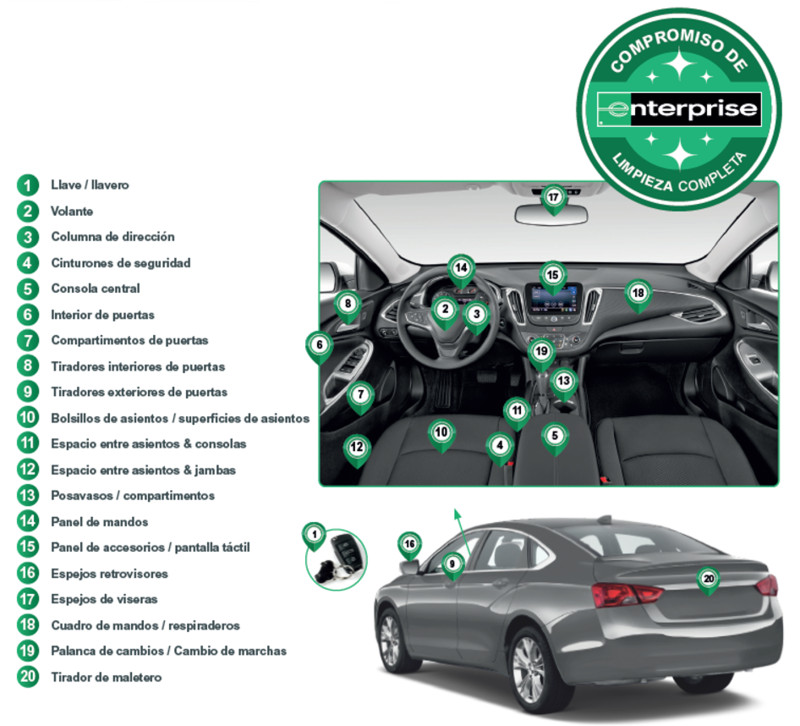 Taking a step forward in relation to the safety of its clients, the company Enterprise Rent a Car, has implemented the Complete Cleaning Commitment that includes twenty disinfection and cleaning points for rental cars. It covers both the rental fleet and the shuttle buses, used to transport customers from one point to the collection offices.
Local car rental companies implement an ozone system
Alamo Rent a Car, reinforces the disinfection process
Hire a car with safety guarantees
Unfortunately we do not yet have an official certificate that guarantees the cleanliness of rental cars, and that you are receiving a safe and COVID-19 free car. However, at QuarentaCars we ensure that the car rental companies affiliated to our marketplace take on the commitment to guarantee the safety of users.
Ultimately, we encourage you to demand cleaning car rentals to ensure the health of your family.
Nothing has changed and yet everything exists in a different way.

Jean Paul Sartre